2013
2013 racing season summary - Marc-Antoine Jacquet
My Experience with Moto Academy
I started riding a motorbike only when I entered university, I purchased a Hyosung 250 for the daily commute I didn't know at the time that it would lead me here. The moment I hoped on the track I caught the bug and never looked back. For my first race season I entered in the Hyosung Cup and managed to finish in the top 15, looking to improve my skills I got in contact with Steve and Moto Academy NZ and so my journey began.
VMCC Winter Series
I was to compete in the VMCC winter series onboard the newly developed IMD250 and my Hyosung.  Things got off to a shaky start as we were having technical problems sorting out the IMD250, but luckily Steve had the NZ Grand Prix winning Honda RS125 I could jump on. Moving from a 250 production motorcycle to a full race machine was difficult to say the least, learning to ride these machines fast doesn't happen overnight I learned and so I started well of the pace at the back of the field. With perseverance and Steve's coaching I began making small steps in the right direction, learning as much I could about racing, setting up a motorcycle, off track training. Come Round 3, I could feel myself getting the hang of riding the IMD250 and the RS125 and what a great feeling it was! Onboard the Hyosung I was improving too managing to ride more smoothly lead to faster and faster lap times. I missed round 5 as I was competing in the Hyosung Cup at Hampton Downs. Round 6 of the VMCC was at Taupo and what a great end to what was an experience of a life time. At this stage my focus had shifted to mostly to racing the motorcycle rather than riding it, a real complement to Steve and the Moto Academy NZ coaching programme. The series ended and I managed to set a short lived track record onboard the Hyosung and riding somewhat competitively onboard the IMD250. I couldn't be happier with the progress I have made.
A year has passed what have I learned?
I've learned how to race. Steve had told me countless times that "this is a sport, you can't just show up and expect to go fast". You have to put in the effort; train, look after your equipment and especially yourself. Setting up a motorcycle was completely foreign to me, but by the end of the winter series I could comment on suspension settings, power delivery and the 'feel' of the bikes.  Lastly, I've learned that in this sport it's all about the small things, mechanical issues or even personal issues can affect your riding.
Why is Moto Academy NZ necessary?
Steve puts you on machines that all the modern GP stars started racing on; "if you can ride a 125 fast, you can ride any bike fast" I truly believe this. Riding these types of bikes really should be imperative for any inspiring racer as they are the stepping stone for bigger and faster things. Steve's coaching is second to none. He took me, a 22 year university student with no experience to become a competent racer who set a track record!  Steve gives you the facts, not what you want to hear and that for me was on-going motivation to carrying on trying.
I am so happy that I met Steve and Moto Academy NZ and that I will sign to race in the NZSBK with him. The NZSBK will be a great challenge for me but I could not be any happier!
See you at the Nationals!
Marc-Antoine #57
August 2013
King of Ruapuna Rd 1
What have I been up to? Racing again!
Second consecutive weekend away racing with the IMD250 and Moto Academy NZ team. This time at Ruapuna in Christchurch for King of Ruapuna Round 1.
Marc-Antoine Jacquet was entered in the 125GP class on the IMD250 for what would be his very first trip to Christchurch let alone laps at Ruapuna. This is a very complex circuit that can take many hours to master, if you ever do acutally master it.
After a pleasant evening at Mel (Jackson) and Traceys we got to the track early to a very sunny but very cold Ruapuna. My weather station did not show above 10 deg C all day, but we were shadowed by the tall trees. We could have picked a better spot to park!!
I must mention the awesomeness of Jamie Rajek from Wolf Pack Racing who hauled the trailer with our bikes and gear down there for us. Without that we would not have been able to go down at all.
So while we set up, I got Marc to head out around the track on the bicycle to get a bit of a feel for the track. He had been working all week with the track map and some starter pointers I had offered, but it is no substitute for the real thing.
Then the bike was warmed up and we were ready to go for Qualifying Practice along with the Pro-Twins and Superlight bikes. Marc took things nice and easy as we had planned and still managed to qualify P1 for 125GP class. A fantastic effort.
Race 1 came along and Marc got a great start and powered into the first turns in the middle of a huge group of bikes. Thankfully he came out the other side, which he would do on each and every lap of the day, also 'O' for awesome.
Marc steadily increased his pace throughout the day, picking different areas of the track to work on at different times and also finding out how physical it is to race this circuit!
Results-wise he came out with Pole Position, P1, P1 and P2 by half a wheel to Scout Fletcher, 125GP NZ#2 rider, and he nearly had her over the line. A few more metres along and he would have passed her. So that is not at all a shabby days work.
The IMD250 ran faultlessly all day long with not a single issue. We changed gearing once and thereafter simply cleaned and fueled the bike.
We have most certainly turned the corner with the development of the IMD250. While the speed of the bike is really good, with the bog standard 2007 KTM250SXF it does not have the raw power to push really high speeds, but future units will have engines with modified cylinder heads (which we will be introducing in our Lab-bike this summer) or the new 2013 or 2014 model engines which have all the power we need already in them. BUT, the handling of the bike is simply superb. It really could not get any better. We have no tyre issues, no chatter issues, no wobbles and bounces and it will pull wheelies when you give it a handful. It would be difficult to be any more pleased with how it is now going.
Next development step will be a new Leo Vince Ti/Carbon muffler and modified exhaust pipe to suit. It will look and sound CHOICE!! and hopefully will offer an improvement to the power curve.
Thanks again especially to Interislander, Griffith Performance Racing, Kiwi Suspension Solutions and to all our other supporters for making this journey possible.
Cheers
Steve and Martin.
Marc-Antoine and IMD250 Manfeild Aug 2013
Bridgestone VMCC Rd 4
Sat 24 Aug was a perfect day to be racing motorcycles, so we decided to congregate at Manfeild to do just that.

After having sat out the less than appealing weather of the July round (well alright, I was flat on my back with what felt like influenza) we were all raring to go and to see how the new front forks would perform.

The KTM 250SX-F engine had had a bit of a seeing to also with a new piston, rod kit and good set up.

Robert Taylor and Dennis Shaw at Kiwi Suspension Solutions had worked their magic on the forks (OK,ok, in their case 'magic' really means 'lots of time and sweat') to transform the standard Honda RS125 Showa forks into Ohlins emulating NIX20 style forks. With some smart thinking and tricky machining we now have forks which are as close to Ohlins forks as one can hope to get, for a small fraction of the cost.

If you are unaware of what the NIX system is, fundamentally it creates forks where one fork does the compression speed control and the other fork does the rebound speed control. Also it allows rapid modification of the valving without having to remove the forks or the cartridge from the bike. Very smart and VERY effective. So now we have just one 'clicker' in the top of each fork to twiddle. Simple. And not to mention that now we actually have effective control, not like the standard Showa forks which have bugger-all good control.

QP: Marc-Antoine set the fastest time of the MotoGP125 class (well, thanks to Rogan not setting a time), but hey, we will take it. So the IMD250 gets its first official Pole Position, yay!!

Race 1 saw Marc get the holeshot and lead the first lap. The bike was going really well and looked like it was on rails. Unfortunately on the first lap the bike sputtered to a halt. Back in the pit it fired right up and made no odd noises, so we were a bit puzzled.

Race 2: after checking a bunch of different things and changing the spark plug Marc again got the holeshot into T1 and powered off around the track. Again, the bike looked great, sounded great, was going really quick, keeping up with the RS125 and again looked like it was on rails. Marc says that the handling is superb, even if he is a learner rider. But after 2 laps the bike sputtered to a halt again.

Again we checked some things and sent Marc out at lunchtime where he did a few laps on his own in front of the spectators. Must say, the bike out there on its own looks and sounds pretty CHOICE!! But it spluttered again, but Marc bought it back to the pits this time.

So we had a good think about it and finally traced the issue to a mistake I had made where I had set up the fuel tank breather hose with a sharp bend in it. This bend was enough to kink the hose and not allow air to pass fast enough. So we re-routed that and sent him out for race 3. All was going swimmingly until Marc made a good old fashioned rookie mistake and stalled the bike on the line!! He was forced to get off the track for the start, but after the bikes had all gone we got the bike started and he set off in chase of Roman on the RSF250 about a half lap (and a full lap) ahead.

Marc had suggested that the front was diving down under brakes a bit faster than he would like so we had slowed down the compression damping just a touch (so easy to do with the KSS NIX 20 system).

Marc caught up to Roman and managed to pull about a half a lap more, so was only half a lap down at the end of the race, or something like that. I was really pleased to see how well the bike and Marc were going. He indicated that the small adjustment made to the forks made a good difference to the handling to make it even better.

The fine control that we now have and the dynamic response that the forks now have that provides great feedback to the rider is courtesy of the time and intellect that Robert and Dennis have put into design and manufacture of parts and the time of tuning those parts on their suspension dynomometer system. Without all that effort we would all be shooting in the dark and possibly ending up upside down. Nobody wants that, so do yourselves a favour and give them a call!

So, all in all, a great day at the track. Shame about my silly set-up mistake, but now I know it will make it easy to do it right.

We are off to Ruapuna for next Saturday with Jamie and Roman Rajek. It will be great to see young Roman going great guns on Ruapuna and to see how quickly Marc-Antoine can adapt to a new, and complex, race track.

I wish to wholeheartedly thank all those people who have helped us get to this point where it finally looks like the bike is fast, handles well and is reliable (next weekend should tell us that). Robert and Dennis at KSS, Liz at Interislander, Brent and Scotty, Victoria Motorcycle Club, Henshaw Signs, RaceSupplies, Cycleworks, RichBan, Greg P, Jean-Phillipe Jacquet, Marc-Antoine Jacquet, W White Wholesale, Bridgestone, the TSS team, NZ Cylinders, PledgeMe.co.nz and all the pledgers, GrowWellington and TechNZ and of course, Martin Dunn.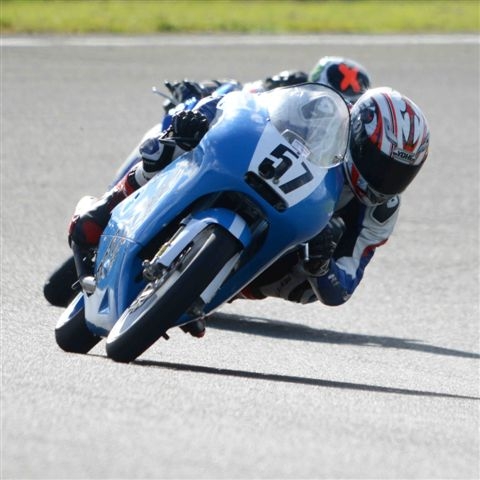 Marc-Antoine and IMD250 Manfeild Aug 2013
Bridgestone VMCC Rd 3 July 2013
After some thought about it and because he is so keen, Marc-Antoine and his Dad decided to brave a mid-July weekend at Manfeild on the Hyosung GT250R. I was, unfortunately, laid up in bed with influenza (well it felt like it), and as promised, the day was cold and crappy. So I was sort of glad I was not able to go.
While the day started out cold and dry, the rain soon came in turning the day colder and wet! Marc-Antoine showed how far he has come already this season (I was watching on-line courtesy of www.livetiming.co.nz) huddled up in a blanket! He has gone from not being close to the front bikes in 250 Production, to now racing against and being in front of a Kawasaki Ninja 250 on his Hyosung. The Kawasaki is much lighter, more powerful and handles much better than the Hyosung, so he is really learning to get the most out of it. In race 2 Marc-Antoine was leading into the last corner, but was just unable to block the pass or to drag to the line. A bitter-sweet moment. Unfortunately in the first lap of race 3 Marc-Antoine crashed out of the overall lead when he was forced to brake just a bit too hard on the cold and wet track. While he was unhurt the bike needed some TLC, so that will keep him busy for a while.
I am unsure how much was learned by anyone in those conditions, but certainly Marc-Antoine is now learning more and more about being ahead of faster riders, or indeed being one of those faster riders.
We are looking forward to August when we are planning to run at Manfeild VMCC 24th and Ruapuna Motorcycling Canterbury on 31st, thanks to Jamie Rajek and huge thanks to Interislander.
July 2013
We are now two rounds into the Bridgestone VMCC winter series and all is going really well. Unfortunately Aaron Hassan ended up not being able to ride with us this winter due to other committments. But that was fortuitous as it turned out as we ended up needing to use the RS125 for Marc-Antoine at both rounds of VMCC.
At round 1 we had an engine failure in the IMD250 when one of the aftermarket valves we had installed decided to fail and went on to cause a bit of damage to the engine. In round 2 we had a big end bearing in the crankshaft fail, because it was old and I had not replaced it, so my bad on that one! But the IMD250 seems to be going well now and we are looking forward to getting out on it in August.
We have decided to sit out the July round due to the cold and wet conditions that tend to prevail at this time of year.
But Marc-Antoine is really coming on great guns riding the Moto Academy NZ Honda RS125. At the first round it was a lot to take in, of course and his results were as one would expect, not very good in terms of lap times, but really good in terms of improvement and education. He ended up running around the 1m25s - 1m26s range.
At round 2 he took up where he had finished, was immediately onto 1m25s pace in qualifying and over the day proceeded to lower his laptimes by a whopping 6 seconds per lap, consistently!!! In the previous races he had had trouble staying anywhere close to Roman Rajeck on the CRFRS250, but in the last race of the day Marc-Antoine overtook Roman and nearly beat him to the chequred flag. Unfortunately the pressure of trying to keep ahead of Roman, something Marc-Antoine had never really needed to think about before, got to him and he made a mistake and let Roman past.
It was a fantastic day with Marc-Antoine really learning a few things, learning that you can't just sit on the bike and it will go fast for you and learning about racing. Our on-board video shows that there is plenty to work on, but I am confident that if we can solve some challenges then he will be in the 1m17s-1m18s bracket next time out in August at Manfeild and hopefully Ruapuna also.